Stickers
Jump to navigation
Jump to search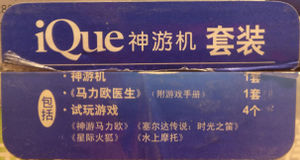 The iQue Player box is sealed with one of three stickers, depending on when it was seemingly manufactured. It is located on the bottom of the box.
Variations
Red: The earliest produced units have a red sticker, which means it's only compatible with iQue Depots and has no USB support. The sticker reads 神游机 首发装, meaning "iQue Player Launch Day Package."
Blue: Little information is currently available concerning it.
Purple: These units seem to be the most common of the three. It has an iQue@Home logo on it, which means its firmware can be connected to a PC via USB (more specifically, 32-bit Windows OSes). This makes it useful to check whether the unit is compatible out of the box.
Transcription
Title: iQue 神游机 首发装 (Red)
iQue 神游机 套装 (Blue & Purple)
---
Text on left: 包括
Text down:
· 神游机 1套
·《马力欧医生》(附游戏手册) 1套
· 神游票(面值48元) 1张 (Red only)
· 试玩游戏 4个
《神游马力欧》《塞尔达传说:时光之笛》

《星际火狐》《水上摩托》

Translation
Title: iQue Player Launch Set (Red)
iQue Player Set (Blue & Purple)
---
Text on left: Includes
Text down:
· iQue Player 1 Set
· Dr. Mario 64 (Instruction Booklet Included) 1 Set
· iQue Ticket(48 RMB Value) 1 (Red only)
· Trial Titles 4
 Super Mario 64 The Legend of Zelda: Ocarina of Time

 Star Fox 64 Wave Race 64

Upgrading
There are two different ways to upgrade a USB-incompatible unit:
Dump the iQue's NAND, then upgrade the SKSA using emoose's iQueTool, then flash back the updated NAND.
Visit an iQue Depot in China (still available?) and update with that.